Jon Herbertson, Owner/Director/Head All*Star Coach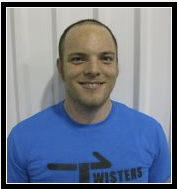 coachjon@ettwisters.com
Head Coach of the East Texas Twisters All*Star Teams
12 years of All-Star coaching experience
12 years tumbling experience
Former Member of Spirit of Texas All*Star Team
University of Texas at Arlington Cheerleader
2002 ACA National Champion
2002 NCA All-American
CPR & First Aid Certified
USASF Certified Levels 1-5 Stunts,Tumbling and Baskets
Former All-Star Director and Floor manager at Planet Cheer
Coached Twister All*Star Teams to 13 National Titles, 9 Grand
National Championship High Point Awards, a Best Choreography Award, and a Best Pyramids Award during the 2008-09 season

Patrick Whaley, Lead Instructor, Mineola Facility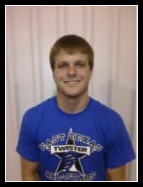 Patrick Whaley is the lead instructor at the Mineola Gym and brings with him a wealth of knowledge and experience in all areas of gymnastics and cheerleading. He is certified Level 10, through USA Gymnastics and is also safety certified. Patrick has coached Men's Level 7 Gymnastics and Women's Level 10 Gymnastics. He coaches and teaches gymnastics, cheerleading, and all-star cheer teams, for us at East Texas Twisters, specializing in the most elite skill with the most advanced students, but does an amazing job with our 3-year olds and beginner level students, as well. Patrick also has a lot of personal experience participating in gymnastics, all-star competitive cheer, and has been on two college cheer squads, winning 2nd place at the NCA College Nationals in Daytona, two years in a row. We are very blessed to have Patrick on our staff and is a tremendous help to our head All*Star Coach, Jon Herbertson, helping him coach our Senior Co-Ed Level 4 All*Star Team, specializing in advanced tumbling and stunting.

Loraine Epps, Office Manager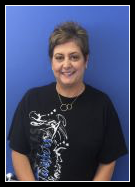 Before having children I worked in the oil & gas industry as an Executive secretary to the Vice President of Production.  After my oldest son was born I became a "stay at home" mom.  I then began working for an auctioneer doing his publicity from my computer at home.  When East Texas Twisters opened in Mineola I quickly enrolled my oldest son who was 7 at the time and was recruited to work as an evening secretary.  Once my youngest son started kindergarten I was offered to join the East Texas Twisters staff full time and have been here 23 years.  I am the business manager, Jon's personal assistant and I supervise the office staff in all locations.  I handle all of the accounting, registration & communications for both facilities and the AllStar & Gym*Strarz teams.  I have been married for 38 years and have 3 children.  Alex is 30, Rebekah is 25 and Andrew is 23.  All 3 of my children have been involved in classes at ETTG and my daughter is proud to have been a part of the All*Star Cheerleading program.  Rebekah cheered for Tyler Junior College and she was able to use the skills she learned from ETTG from Mrs. LeAnn and Jon.

Celia Storey, GymStarz Director Canton Location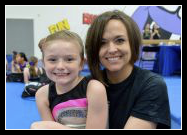 celiastorey@drivenlifechurch.com
Celia is a home grown Twister!  As a child she competed right here at East Texas Twisters under the instruction of LeAnn Daniels, former owner.  She took a love to the sport as a child and returned later in life to create a competitive gymnastics program at East Texas Twisters.  She is a certified USAG instructor with over 15 year experience coaching recreational gymnastics, as well as, 10 years Competitive Gymnastics coaching experience.  She believes every child will benefit from gymnastics and every child should get to experience the recreational competitve side of gymnastics.  She has two children, Justice who has coached for Twisters 5 years, and Ella.